A little less than one hour ago, a strong earthquake hit off the east coast of Japan near Fukushima, the site of the 2011 earthquake-spawned tsunami that killed almost 19,000 people according to Japanese and U.S. agencies.
The Japan Meteorological Agency put the earthquake at magnitude 7.3 and issued a tsunami warning for Fukushima Prefecture and urged immediate evacuations. Tsunami warnings were also issued for a wide area of Japan's Pacific coast, including the Miyagi and Iba prefectures.
Reports of damage from the quake weren't immediately available. But a relatively small 3-meter (10-foot) tsunami was expected at any moment, the national broadcaster NHK said in an on-air report.
Bloomberg reports:
A magnitude 7.3 earthquake struck Japan off the coast of Fukushima, home to the nuclear power plant badly damaged in a March 2011 quake, triggering a tsunami alert. The local currency rose.
The temblor struck at 5:59 a.m. local time at a depth of 10 kilometers, according to the Japan Meteorological Agency. Tokyo Electric Power Co. said it was checking the plant and would issue updates as soon as information became available.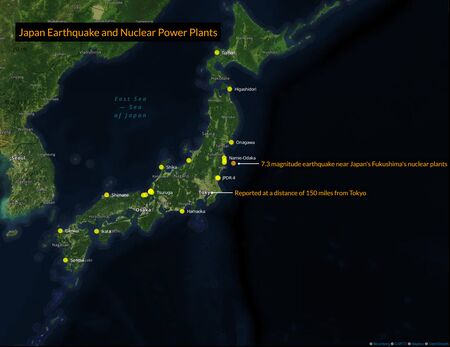 State-run broadcaster NHK said a tsunami was expected imminently at Iwaki City.
The video below is the first available video report.
Fukushima is the home of a nuclear reactor that had been reportedly leaking nuclear radiation since a similar earthquake ravaged the facility in 2011. Hopefully this disaster will not affect the integrity of the reactor and we will not see another deluge of nuclear radiation being dumped into the ocean.
H/T [Bloomberg]